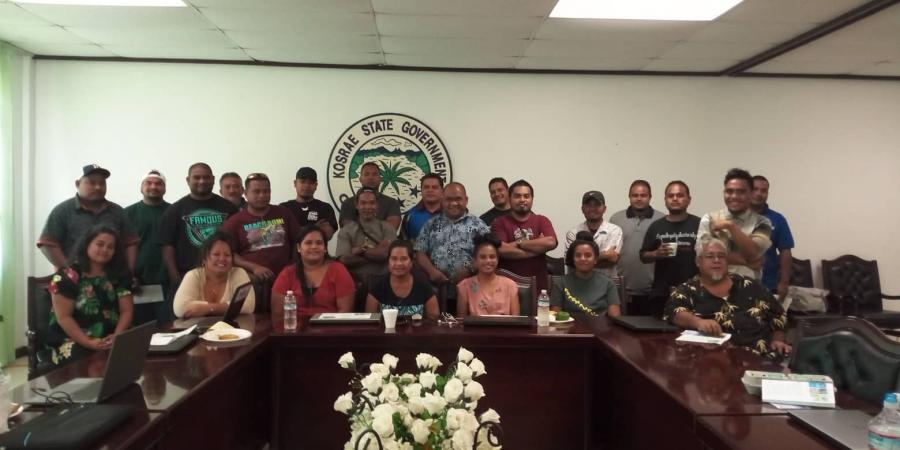 Kosrae State – June 4, 6 & 7, 2019, officers from KIRMA, DREA, KCSO, AG, DOH, IOM and JICA received focused capacity training on the use and management of the FSM national environmental data portal, an on-line tool to address the on-going challenges of compiling high-quality, and up to date data on the environment including a place to store data. Technical officers from FSM DECEM conducted the training on behalf of the Inform project team, and it was held at the Kosrae State Governor's conference room.
The development of a national data portal will improve access for national datasets and indicators for environment information. Information stored in the national data portal will enhance FSM's reporting capacity to the various multilateral environmental agreements (MEAs) including key national, regional and international commitments.
The Inform project will complement and strengthen the development of key national environment documents, mainly the State of Environment (SoE) Report and the National Environmental Management Strategy (NEMS). Development of these documents relies on easy access to a clearinghouse of information on the environment.
The ACPMEA programme leveraged new funding from the Global Environment Facility (GEF) to set up the Inform project, which is implemented by UN Environment and executed through SPREP's Environmental Monitoring and Governance Programme. The four-year regional Inform project (2017-2022) is establishing national portals in14 Pacific island countries of the Cook Islands, Federated States of Micronesia, Fiji, Kiribati, Republic of the Marshall Islands, Nauru, Niue, Palau, Papua New Guinea, Samoa, Solomon Islands, Tonga, Tuvalu, and Vanuatu.
For more information on the training held in Kosrae State, please contact Mr. Snyther Biza, GIS/Data Officer from FSM DECEM, and Mr. Skiis Dewey, IT Officer from FSM DECEM on emails: [email protected] and [email protected]
For more information on the Inform Project, please contact Mr. Paul Anderson, Inform Project Manager on email: [email protected].
To learn more about the Inform project, please visit http://www.sprep.org/inform/home