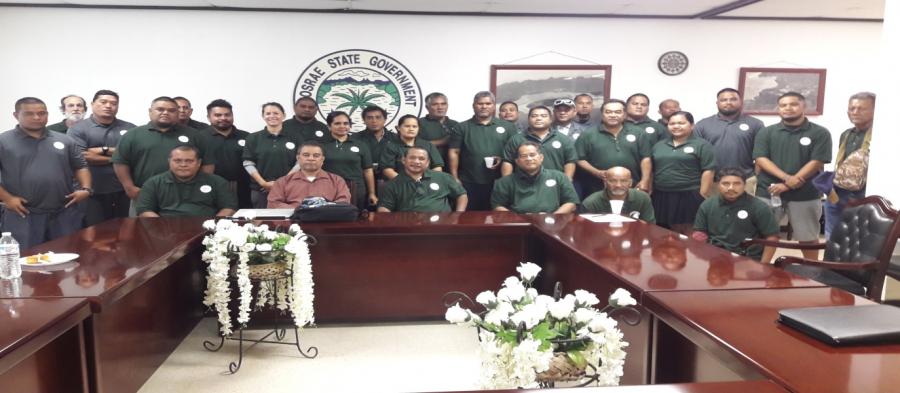 Institutional Support and Capacity Development through Cross Site Learning Exchange
May 21, 2020 @ Governor's Conference Room
The FSM Ridge to Reef Project is partnered up with Kosrae state environmental agencies, departments, NGO's and the Protected Area Network (PAN) to host the second round of Kosrae's Protected Area Cross-Site Learning Exchange on May 21st- 22nd of 2020 at the Governor's Conference Rm., Tofol, Kosrae. The purpose of the cross-site learning exchange was to seek institutional support and capacity development available to uplift the Protected Area (PA) movement in the state of Kosrae. It was also intended to report on the status of each proposed and registered Protected Area in Kosrae as well as challenges and lessons learned from the planning stage to the implementation of each PA management plan.
A welcoming remark was delivered by the Administrator, Mr. Blair Charley of Kosrae Island Resource Management Authority (KIRMA), followed by a short remark from the Governor of the State of Kosrae, The Honorable Carson K. Sigrah. Governor Sigrah, during his remark, has thank the FSM R2R Project-KIRMA, PAN and all partners for the planning and coordination to host this very important meeting for each Protected Area in Kosrae. Governor Sigrah emphasized how important it is to collaboratively work together in protecting and conserving the resources in our environment, to come up with some wise solutions to effectively manage our Protected Area system in order to sustain the resources we have for present and future generations. As stated by the Governor, he said, "We are not experts, so let us work together to reach the goals and objectives of all Protected Areas in Kosrae. Let us utilize the information provided from this cross-site learning exchange to support our Protected Areas for effective management".
Following those remarks, partners presented presentations on different issues and topics that deemed necessary. Some of the topics included the Mahkontowe Conservation Area, the Kosrae State Protected Area of 2010, Urban and Community Forestry Support for PAs, the National PAN Framework and Kosrae State PAN, the FSM Ridge to Reef Project, the Community Based-Ecosystem Approach to Fisheries Management Process and the Spatial Planning for PAs. The first day ended with PA Mangers update report on status, challenges and lessons learned throughout the start of each project until present.
On the second day, participants gathered at the James Palsis Marine Park that is situated within the Tafunsak Marine Protected Area at 9:00am. The Kosrae PAN Coordinator did a recap of the first day and continued to re-group for further discussion on PA update and reporting. After reporting on the update of Olum Watershed Protected Area, Walung MPA, Trochus Santuary, YELA Conservation Area and the Tafunsak MPA, participants departed on its field trip to Walung MPA sites and ended its trip at the YELA Conservation Area.
We are very grateful for the support provided by FSM R2R Project and partners to make this Learning Exchange a success.